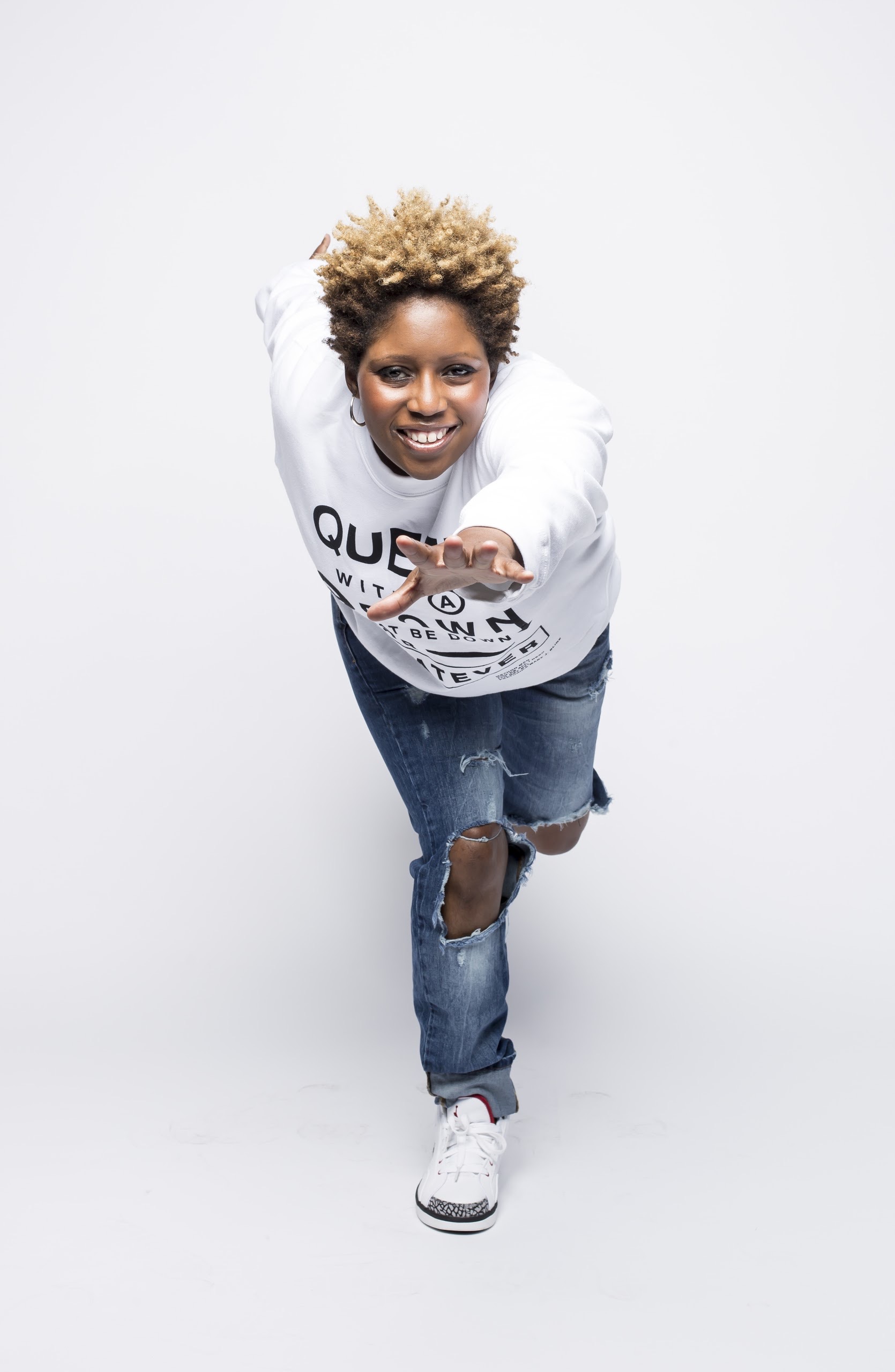 Cyrian Reed " The Dancer" AKA SUGA LUMP is one of the most innovative, sophisticated, graceful, and soulful dancer and choreographer in the Los Angeles and Inland Empire areas. She is a graduate of California State University in Long Beach, California where she received her Bachelor of-Arts Degree in Dance and a Master Degree in Adult Education at the University of Phoenix. Cyrian formally trained at Bre Dance Studio under the direction of Clifford Breland and Denise Ji'Ahnnte in Riverside, California where she studied ballet, jazz, modern, and tap for twelve years. When hip-hop came on the scene she embraced this free style dance and mastered it utilizing her formal training to create uniqueness that only Cyrian, AKA, "The Dancer" can perform. Audiences have been electrified by her performances with the Bre Dance Theatre, Antics, and MaDonna Grimes Dance Company.
Cyrian has won numerous awards in her dance career which includes 2001 Young Emerging Artist Award in dance; Herb Alpert Foundation Dance Scholarship ($20,000); NAACP National Academic, Cultural, Technological and Scientific Olympics for Riverside and Alta Dena, California chapters. Last, but not least, she was a winner of the popular dance television show, "Dance 360". In addition, Cyrian has performed in the hit play, "Hell's TOO Hot", "The Hip Hop Wiz", "Flashing Lights" and the TV Land Awards show in 2005. She has toured with Choo Choo Soul, Cheryl Lynn, Sketcher and Nike Industrial, BCBG, Hip-Hop-Harry, Madonna Grimes and Nick Name. Cyrian recently choreographed for the Emmy nominated "Hip-Hop-Harry" sitcom on the Discovery Kids and TLC television channels. Cyrian is currently working with Academy awarding winning actor Quinton Aaron, along with Fredro Starr and Marcus Paulk on up coming sitcom " Blaze Studio" and "Steady Mobbin" sitcom for the new Dance Network. She has worked with Gia Farrell on the "Hit Me Up" video for the soundtrack for the "Happy Feet" movie under the direction of Hi Hat. Also, she has been in Acura, Best Buy, and Hããgen Dazs, Buzz Feed and Nike commercials. Cyrian also has worked with artist such as Beyonce, David Foster, Gnarls Barkley, Ceelo, Mitchel Musso, Cheryl Lynn, Trinere, KC & The Sun Shine Band, Lil Gavin, 3RDegree, Jaydagrace and Brutha. She was a guest judge and choreographer for Steven Spielberg's Realty TV Show on Bravo, "America's Next Top Producer", as well.
Artists and students under her tutelage at California State University of Northridge, Bre Dance Studio, Studio Elite, Inspire Dance Studio, Corona Dance Academy, Vista Heights Middle School, Linfield Christian, Norte Vista High School, Rancho High School and Santiago High School have won numerous awards because of her signature choreography. Her objective is to be the most "dynamic" dance instructor teaching the many art forms of dance, i.e., Modern, Jazz, Hip-Hop, Ballet, etc., to aspire young dancers. Therefore, seeking a responsible and challenging position that will utilize her experience and education to offer opportunity for personal and professional growth. Cyrian believes that dance can communicate with anyone in the world. Revolutionizing the art-of-dance, Cyrian's compelling, innovated, energetic, diversified teaching techniques, choreography and performance comes through her dancers; commanding all eye's to the stage.